NEWS
Kate Gosselin Confesses: "I Was Very Hard" on Jon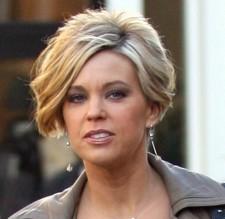 Is someone spiking the Gosselin's coffee with an apology serum? First Jon Gosselin went on an "I'm sorry" tour, led by Michael Jackson's old pal Rabbi Schmuley Boteach in which he pledged to reset his moral compass. Now Kate Gosselin admits that she was "very hard" on her hapless soon-to-be ex-husband.
In another confessional TLC special, Kate: Her Story, the mom-of-eight expressed remorse at the way she bossed Jon around.
Article continues below advertisement
"I was very hard on him and I would never deny that," she said on the show, which aired last night, "I felt very much like a lot of weight rested on my shoulders."
"I was wrong to treat him that way," the 34-year-old added. "Was it good, healthy and wonderful? No. Am I proud of those moments that were captured? No."
However, her regret for those times in her marriage are tinged with longing to have her husband of 10 years back.
"I still wake up every day, and I think the phone will ring," an emotional Kate said, before pausing to add, "and it'll be the old Jon."
"Our goals just very much changed," she stated. "Our visions changed. My goals didn't change as a mom. I just think somewhere along the line, his goals changed. They felt possibly detrimental to me, and possibly detrimental to me and the kids…No blame."
So when did it hit her, that their marriage had finally hit the skids?
Article continues below advertisement
"I think I was on a plane coming home from somewhere and I remember thinking, 'We're not going to recover from this,'" she recalled.
"At the end of the day, I looked at him and he looked at me, and we were just completely different people."
Kate, who is hoping for a career in film and TV, says the show really did portray the unvarnished reality of life in her Wernersville, PA home.
"Very real. Because there are a lot of things that I would gladly take back if it wasn't real."
But she insists that filming has never harmed her eight children: nine-year-old twins Cara and Mady and five-year old sextuplets Alexis, Hannah, Aaden, Collin, Leah and Joel.
"Coming from a mom who laid on bed rest from the time I found out I was pregnant, from seven weeks pregnant to 30 weeks, I absolutely would not put anything in my mouth that would harm them, and fought for every second of their existence.
"I can tell you that there is nothing that would ever force me to put them in harm's way."
So why doesn't she turn off the publicity machine and go back to normal life?
"We're too far gone," she says. "Stepping out of the spotlight when it's prudent to do so is a good thing."
And the affair with her gray-haired bodyguard Steve Neild? "So unthinkable to me," she says, "that to have to think about it makes me sick."