NEWS
Kate Gosselin Dropped From New Mom Talk Show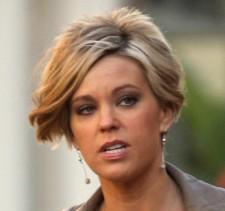 Kate Gosselin didn't make the cut as co-host on a new talk show with Paula Deen because executives thought she was too controversial and inexperienced for a full-time hosting job, reports RadarOnline.com.
Kate was picked as one of several hosts for a Momlogic TV pilot in September along with Food Network star Paula, Lee Woodruff and former Early Show co-host Rene Syler.
The show has been described as The View for working moms and while it is still being shopped around, insiders say there is little chance it'll be commissioned.
Article continues below advertisement
With multiple hosts, the show was designed to tackle topics such as teen pregnancy as well as lighter subjects.
The decision to ditch Kate from the show was a result of some heated discussion. "There was a lot of arguing," a source, familiar with the behind-the-scenes action, told the Web site.
However, Kate will be back on TLC in the Spring with her own program. The concept is still under wraps.