NEWS
Kate Gosselin: I Am Not a Celebrity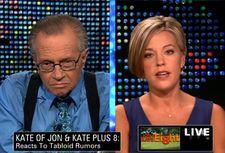 Having eight kids can't be easy. Add all those kids to a reality show and toss in a cheating scandal and you've got more than a handful.
Kate Gosselin, of Jon & Kate Plus 8, TLC's hit reality show about her life with husband Jon and their many kids, says the rumors of her hubby cheating are a result of their newfound fame.
"The situation is the tabloids are going crazy again. You know, it's a result of our situation – our very public lives," she said on Larry King Live last night. "We, as you know, have a reality show. Everyone wants to know everything about us. And I feel like this is a situation where, you know, you can't believe everything that you read. You know that. I know that."
Article continues below advertisement
Despite the public interest, Kate, the author of Eight Little Faces, says they're dealing with it privately, and just trying to raise their kids in the process.
"We are handling it one step at a time. And I think the important thing to remember is that we love our kids to pieces. They are safe and happy and healthy, "she says. "And of all times, their birthday is coming up. And I'm just thanking God for five wonderful years with eight wonderful kids."
MORE ON:
jon and kate plus 8
She explains her views on the affair rumors, blaming the extra attention and confusion on Jon's inexperience with being recognized in the public eye.
"I feel that Jon is having difficult times realizing that, you know, you can't go to the grocery store without people whipping out their cell phones, calling everyone they know and taking pictures of you," she says. "He is dealing very poorly with it."
At the end of the day, Kate believe their family will come out on top.
"I look at life as a glass half full is my attitude. And I feel like we have learned a lot, the kids have gained a lot. We have benefited a lot."
"Life happens, she adds. "And, you know, we all have to react to what happens to us. And I choose happiness. And I choose to survive anything."
She is one tough mom!