NEWS
Kate Gosselin Moves in with Kendra Wilkinson's Husband! See Why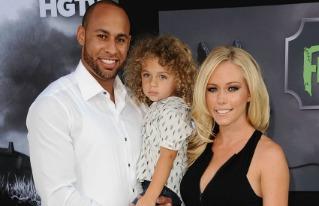 Kate Gosselin-Baskett? Not really, but the Kate Plus 8 reality star did temporarily move in with Hank Baskett and his child with Kendra Wilkinson, Hank IV.
"It was insane!" Kendra exclusively tells OK! of her experience filming tonight's season premiere of Celebrity Wife Swap (ABC, 8 p.m., ET). "You can call it birth control, but it was actually a very amazing experience. It was something I will always carry with me."
Article continues below advertisement
On the episode, Kate leaves her twins, Cara and Mady, 12, and eight-year-old sextuplets Alexis, Hannah, Aaden, Collin, Leah and Joel, to move into Kendra's L.A. home with Hank and four-year-old Hank IV. Meanwhile, Kendra heads to rural Pennsylvania to take care of Kate's brood.
Check out this preview of the show:
"I saw the positive side of her and her family," Kendra tells OK!. "I just really hope that the viewers get a chance to really understand her more, through my eyes."
And what did her son have to say about his temporary strict mom, Kate? "He liked her rules!" says the former Playboy Playmate, who gives "Little Hank" a lot more freedom. "He literally was like, 'Mommy I want more rules in my life!'"
Surprisingly, Kendra actually told him no, because she always wants him to have fun. "That's my rule to him," explains Kendra. "You have one chance to be a kid and run around be free do whatever you want."