NEWS
Kate Gosselin & Tony Dovolani Plan Playdate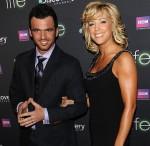 Despite rumors of tension between Tony Dovolani and Kate Gosselin during her disastrous stint on Dancing with the Stars, the pro insists he and the reality mom are still in touch.
"We talk a couple of times a week," Tony tells E! Online. "Kate misses her Dancing With the Stars family. In fact, she misses dancing altogether. That, to me, is music to my ears."
Article continues below advertisement
Tony and Kate are even planning to spend more time together — this time away from the dance floor.
"Our kids will probably have some playdates soon," says Tony. "I absolutely think that would be fun. People love talking about kids, so we always have a good conversation that way."
OK! NEWS: KATE GOSSELIN'S PLUS 8 BROOD ALLOWED ON NEW REALITY SHOW
Tony's wife Lina is pushing to get their family together with the mom of eight as well: "My wife is a big enthusiast of Kate's show, so, yeah, it'd definitely be great to get the families together."
Kate blogged today that she had a "wave of sadness" come over her recently when she took a look at her discarded dancing shoes in her basement.
OK! NEWS: JON GOSSELIN: "I NEVER WANTED PRIMARY CUSTODY"
"Without a doubt, Dancing With the Stars was a life-changing experience," she wrote on her TLC blog. "I learned many valuable lessons and many things about myself. I had the opportunity to meet an amazing group of people — many of whom I'll remain friends with long beyond our days of dance."
And yes, the single mom will be back for the season finale. "I think there better be one more dance left in me," she wrote before signing off: "C'mon, I know you missed my unique dance style!"