NEWS
Kate Gosselin's New 'Do is Worth Almost $7,000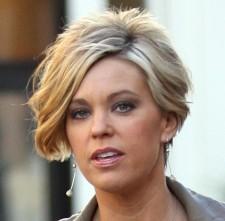 Ted Gibson, the stylist who persuaded Kate Gosselin to change her distinctive hair 'do, reveals the true cost of her cut — nearly $7,000.
"My haircuts are $950," Ted told Radar Online. "The color would have been about $500, and the extensions, which were great length extensions, would probably cost about $5000."
Ted says that Kate was terrified about changing her trademark sidesweep. "We were together for about 20 hours and I would say 15 of those hours were working on Kate trying to convince her to cut her bangs," he says. "I felt like she was hiding behind that front piece."
Article continues below advertisement
However, he says the mom of eight was "really open to the entire process."
Meanwhile, he has a nickname for the crop at the back of her head. "The little short bits in the back, we called them her 'attitude' and getting rid of those took a long time!"
Despite spending so much time together, Kate stayed quiet on one subject: her ex-husband Jon Gosselin. "I was surprised," Ted says, "but Kate did not talk about Jon at all. It's Kate the Clean Slate and I was really proud of her, she said she was moving on."