NEWS
Kate, Hilary & Ginnifer All Have 'Something Borrowed'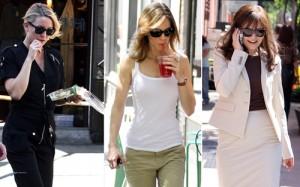 Some of Tinseltown's hottest leading ladies got down to business yesterday on the set of Something Borrowed in NYC. Kate Hudson, Hilary Swank and Ginnifer Goodwin put on their shades and went to work on the new rom-com based on the novel by Emily Griffin.
Hilary enjoyed a refreshing smoothie as she walked with co-producer Molly Smith on the set of the the film. The double Oscar-winning actress has swapped sides of the camera to help co-produce the romantic comedy, starring Kate and Ginnifer.
Article continues below advertisement
Ginnifer donned a wig and a business suit for her role while Kate wore a fabulous full length jumpsuit with silver zip detail.
Kate also grabbed a bite to eat in between takes.
Ginnifer and Kate play two best friends living in Manhattan, Rachel and Darcy respectively, in the film adaptation of the beloved chick lit novel.