NEWS
Kate Hudson 'Channels' Mom, Goldie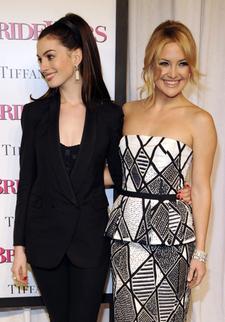 Hollywood writers historically hate "hands-on" producers, but Bride Wars co-author
Casey Wilson loved boss/star Kate Hudson's input in the movie.
"She was channeling (her mom), Goldie Hawn, in a way she never has," says Wilson, a Saturday Night Live cast member who wrote the film with pal June Raphael.
"She made things funny we hadn't made funny. We were storyboarding on her carpet, her son was running around."
Article continues below advertisement
And it sounds like Kate's talents weren't the only pleasant surprise Casey got during the making of the movie.
In fact, her co-star Anne Hathaway, provided quite a revelation for Wilson.
"She has a scene on a stripper pole. I was like, whoa, I'm not lesbian but...."