NEWS
Kate Hudson: I'm Totally Single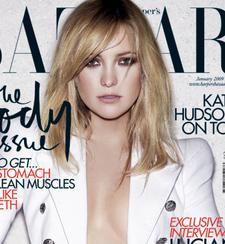 Unlike the bridezilla character she plays in her new movie Bride Wars, Kate Hudson says she is nowhere near walking down the aisle in real life, and is just trying to get the hang of dating first – not an easy task in Hollywood!
"I was never single in the industry – when the movies came out and I started getting more jobs, I was always married," she says in the January issue of Harper's Bazaar. "So the whole thing is very new to me, and it hits you very fast because the publications jump on you. You're dating everybody you walk around with – you can't have any male friends. It's weird."
Article continues below advertisement
Weird though it may be, Kate reveals that she is enjoying dating now. But don't try to pin her to any fellow celebs just yet!
"No, I'm single," she says when asked if there's a special someone in her life right now. "I'm totally single."
Whoever Kate does end up dating, they're going to have to be quick on their toes to keep up with this fit mama's lifestyle! Instead of just working out to lose 50 pounds after her son Ryder Robinson was born four years ago, the blonde starlet decided just to have fun.
"Life is too short to be concerned with anything but having a great time," she says. "Sports are big in my life. I swim, run, bike and dance, play volleyball and soccer, and I want to start training for a triathlon. I'm one of those people who love to be active."
As for whether she'll have to work on losing baby weight again any time soon, Kate shoots down any pregnancy gossip and chalks it up to Hollywood's obsession with women's bodies.
"They've said maybe four times recently that I'm pregnant. Because I'm leaning over in the picture! You think about it, and you're like, 'What are you doing?' " she vents. "It's all bulls--t," she adds, "Excuse my language, but it is. Women's bodies change – they change all the time."