NEWS
Kate Hudson on Keeping Her Baby News Private: "I'm Pregnant and I'm Really Sick"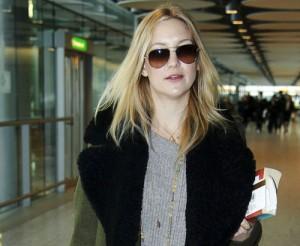 Now that the public knows Kate Hudson is expecting her second child, the questions remains why she kept her big baby news with boyfriend Matt Bellamy a secret for so long. Looks like morning sickness may be to blame.
"I'm pregnant, and I'm really sick," Kate told London's The Times. "But I couldn't say that because you really want to keep it as quiet as you can for the first trimester."
Article continues below advertisement
"My friends all thought I was depressed because I wouldn't leave the house. But I didn't want anyone to know for a long time. I was just hoping that all of a sudden I could show up somewhere with a big belly," she added. "But, of course, you're somewhere in L.A., and somebody says something, and it ends up somewhere. And here we are."
Its seems like Kate and her 32-year-old Muse man are definitely on the fast track, even though she denies engagement rumors.