NEWS
Kate Hudson Tells Ellen DeGeneres Why She Thinks She's Having a Girl!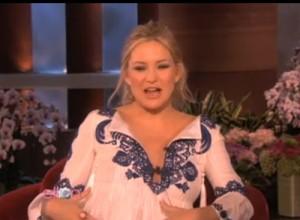 Everyone is speculating the sex of Kate Hudson's baby, but the actress pretty much has it figured out. She stopped by The Ellen DeGeneres Show to chat about her new film Something Borrowed and how she can tell the sex of her baby. After all — mommy knows best!
Kate is already the proud mom to her seven-year-old son Ryder, and the actress is pretty sure he will soon have a baby sister!
Article continues below advertisement
"Everything's been so different, which is why I think it's a girl. And it definitely doesn't belong to me anymore — this area," Kate told host Ellen DeGeneres yesterday on her show, gesturing to her stomach. "It's all hers. So, I feel like that means it might be a girl."
And Kate's "baby girl" is very demanding on her mom physically.
"I get really exhausted," said Kate. "More tired, more sick, more everything."
Do you think her instincts are right?