NEWS
Kate Hudson's Weight-Loss Secret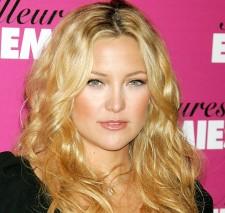 Kate Hudson has no qualms about showing off her body — check out her revealing shoot for the December issue of Britain's Elle magazine! — but she has revealed her fail-safe weight-loss secret: She cuts out the booze.
"I love my glass of wine. I love tequila," says the 30-year-old, who lost 20 pounds to play a terminally ill woman who falls for her doctor in Earthbound.
"To be in New York for two weeks and not have one beverage, I'm not sure I've ever done that!"
Article continues below advertisement
Kate, who has been dating Yankees star Alex Rodriguez for six months, also set the record straight over reports of an engagement.
"Did you know that it was this one, on my right hand? I hear about this and I'm like 'Why would I even respond? What would I say if you're going to lie about something ridiculous?'
"And if you really did your job, you'd look at the pictures taken that day and realize the ring was on my right hand."
Meanwhile, the fun-loving actress is a big fan of her beauty regime. "I love being a girl," she says via the UK's Daily Mail newspaper. "I love clothes and I love the rituals of facials and body treatments, all the stuff girls get, make-up, scarves, hats.
"And we're like a tribe. That's just our nature. You get a group of women together and, somehow, we keep it together."
What about Botox? "Everyone's so obsessed with who gets Botox, but it's great! Are you kidding?
"The fact that women can avoid going under the knife and get a little Botox treat and not have to worry about it? I'm glad it's there for when it's time."