NEWS
Kate Major Regrets Crossing Line with Jon Gosselin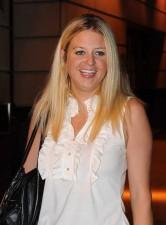 Following her recent fling with dad-of-eight Jon Gosselin, former Star Magazine reporter Kate Major answers some much anticipated questions detailing her massive regrets of the affair with the not-so-liked TLC reality star and the lengths a journalist should and shouldn't go to get a story.
"As a celebrity journalist, Jon was attracted to me and I let my journalistic skills down and fell for his crap like other girls. I did know better and I messed up. Do I regret it? Absolutely," Kate explains to Gawker.
Article continues below advertisement
After dating Jon for just a few months after his messy divorce from wife, Kate Gosselin, Kate realized that she was to blame for her downfalls and admits that she wasn't even pushed to do so by her editors.
"Flirting and sex appeal does help with celebrities but crossing the line like I did was unacceptable in any profession," the journalist reveals to Gawker of going a bit too far, "My editors never encouraged me to use my looks as a way to get close to the stars."
Since Kate admits to Gawker that, "Out of all of the celebrities that I have met and reported on, Jon Gosselin was one of the least attractive to me initially," then why did she pick him?
"I guess Brad was with Angie and Tiger was VERY busy the day that I met Jon.  Oooops, did I forget Robert Evans?" Kate jokes about why she selected Jon to have a romantic affair with.
At the end of the day, being a journalist is all about making the right connections and sources, but Kate didn't realize how much Jon could push her over the edge and leave her position with Star Magazine.
Article continues below advertisement
"It's all about getting the scoop that no one else did- the key to that is confidence and not being afraid to take the risks that other journalists were afraid to take," Kate confesses to Gawker, "Unfortunately, I threw it away by believing in someone who wasn't who he said he was, which caused me to resign from a job I worked so hard for and I regret that everyday."
Recounting her many mistakes, Kate, who is now rumored to be dating Michael Lohan, is sure that Jon is what ended her career at Star and isn't pleased with the way she made her grand exit.
"I made a mistake and my mistake was Jon…If I was going to go out with a 'bang' though to be remembered by- Jon Gosselin was the worst person I could have picked," the young reporter reveals to Gawker.
Let's hope this is one lesson learned for Kate.