NEWS
Kate Middleton Dresses Her Best in Polka Dots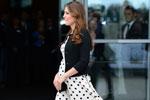 Kate Middleton, one of the shining stars of England, pulls together some of the best pregnancy outfits we've ever seen. After that royal babe is born, Kate needs to write a maternity style guide and bind it, stat! Rosie Pope was right—mommy-to-be Kate has changed this genre of dressing.
Just today, Kate Middleton rocked a Topshop polka dot dress on a trip to the the Warner Bros. studio in London. She wasn't there to start filming a movie. Spare your sad face emoticons, we know. Can you imagine if Prince William's lady made a documentary? Oh, we'd have our inspiration notebooks open. But getting back to the now, let's take a second and dissect this outfit.
Article continues below advertisement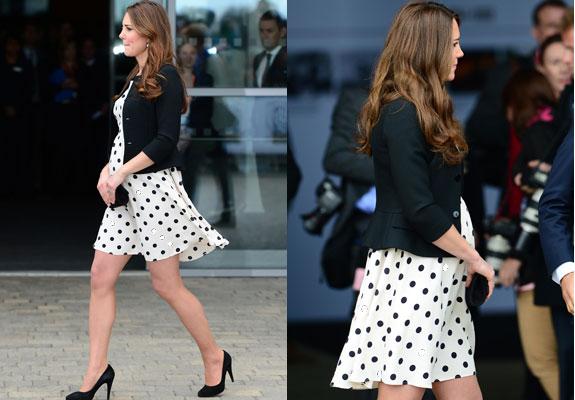 Kate didn't go for a LBD, but decided on the LBD's cute cousin—the little polka dot dress. We love how she kept the whole look in only two colors and for once picked a print that would showcase that adorable bump just a tad bit more. Kate's hidden baby bump is a star signing in and of itself. She paired this number with a black cropped blazer—another sign she's ready to make her motherhood more visible.
OK! News: Kate Middleton Glows in Baby Blue Dress
Even though we were pleasantly surprised to see this ensemble, the classic print is something that Kate has worn in the past. You never get rid of a look that works. Our only complaint is that this outfit is so gender neutral. We have no signs of whether this baby will be a boy or a girl, and we're kind of dying to know. Start wearing more pastels in pink and blue, Kate!
Photos: Kate Middleton's Growing Baby Bump
We still think it's a good idea for all the preggo celebs to sit around and trade clothing tips. There's a slim chance that'll happen, so maybe we'll start wishing for a play date.
Do you like this look? Tweet @OKMagazine and leave a comment below.