NEWS
Kate Middleton's See-Through Dress: Sultry Number Sells for Over $125,000!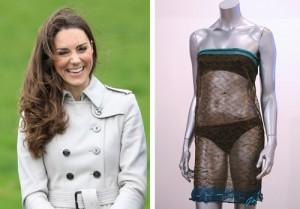 The see-through dress that reportedly helped Kate Middleton catch the eye of Prince William when she wore it during a fashion show in 2002 at their alma mater St. Andrew's University in Scotland, sold at an auction yesterday in London for over $125,000!
Originally the dress was expected to auction for $16,000, but the transparent black number, worn during a charity fashion show at Saint Andrews, was sold to an unidentified buyer for a whopping $125,871, the Associated Press reports (via TIME magazine).
Article continues below advertisement
Todd was on hand at the auction, which included a lot of royal memorabilia, and three to four bidders were competing for the now famous see-through dress.
Reportedly, some of the late Princess Diana's dresses went for less.
Todd, ironically, did not pursue a career in fashion, but at an aquarium.
According to the AP, one of the bidders, Carole Lieberman, a U.S. talk show host and psychiatrist, believes that Kate's provocative number was proof that "she was prepared to go the extra mile to snag one of the world's most eligible bachelors."
What do you think of the dress? Are you surprised the soon-to-be princess donned something so scandalous?
Share your thoughts in the comments!