NEWS
Kate Moss Shocked by Pregnancy Rumors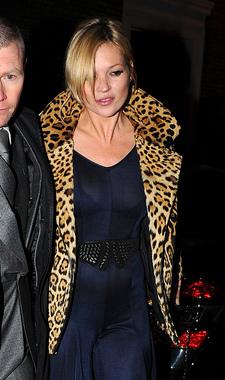 Kate Moss has been looking extremely curvy lately, and all right around her belly!
But despite rumors that the party-girl model is pregnant, Moss insists she's just gained weight. In a new interview with New York Magazine, Moss addresses the pregnancy claims and says it couldn't be farther from the truth.
"I just put on a couple pounds and they went in the right place," she says. "I've just started wearing bras. It's a miracle. Great timing for my lingerie collection. I've just grown breasts."
Article continues below advertisement
Moss says she is not expecting a child with boyfriend Jamie Hince, but admits the added curves do make her feel more womanly. "I am a woman now. It's true. Honestly, I've never worn a bra in my life. Ever! It's so awful, even my friends are phoning me up and saying, 'Are you pregnant?' And I'm like, 'No!' Isn't that weird? Now I can fill a B-cup." She then adds, "My boyfriend might not like them. I'm a bit worried."
The model laughs off claims that she parties too much, saying, "I haven't partied since...last Friday."
Moss also had some harsh words for Tom Cruise and Katie Holmes. Recalling last year's Met Ball in NYC, when she and fashion designer pal Stella McCartney had to wait in line for an hour, she said, "Tom and Katie just walked right up to the front and we were like, 'Who the **** are they? They're not even in fashion!'"
To make up for the slight, Vogue editor Anna Wintour has reportedly invited Moss and designer Marc Jacobs to co-host this year's event.
Take that Tom and Katie!