NEWS
Kate Winslet on 15 Years Since 'Titanic': Leonardo DiCaprio's "Fatter Now and I'm Thinner!"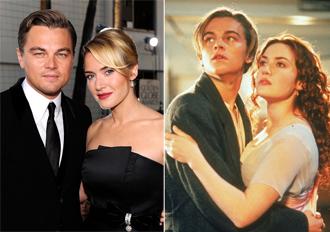 In our minds, Kate Winslet was the stunning redhead who played Rose Dewitt Bukater in 1997's epic hit film Titanic. In her mind, she was a chubby 21-year-old girl who was trying to break into the film business with her "skinny" co-star, Leonardo DiCaprio!
OK! GALLERY: KATE WINSLET STEALS THE SPOTLIGHT AT THE PREMIERE OF TITANIC 3-D IN LONDON
In an interview with ITV's Daybreak, Kate promotes Titanic 3-D and reveals how much she and Leo have changed over the past 15 years.
Article continues below advertisement
"We do look very different, we're older," Kate explained. "Leo's 37, I'm 36 — we were 21 and 22 when we made that film. You know, he's fatter now — I'm thinner." Was that a dig at Leo?! "It's true though!" she added.
Kate even admits that watching the 3-D version of the movie gave her the creeps!
"I put my glasses on and I sat there all excited and then the second my face came on I was like, 'Oh my God, make it stop, switch it off, somebody make it stop, turn the sound down, is that what we looked like? Oh my God, look what I looked like and look what Leo looks like!'" she explained.
"It was completely bizarre," she added. "It was like somebody saying we're going to take a home video that we made of you that's three-and-a-half hours long and we're going to make the world watch it all over again. And it was made 15 years ago, how do you feel about that? So bizarre, so bizarre."
OK! NEWS: KATE WINSLET ON HER PERFORMANCE IN TITANIC: "MY ACTING COULD'VE BEEN A LOT BETTER!"
So will Kate let her two kids, Mia, 11, and Joe, 8, watch this home movie that made $1.843 billion dollars in the box office worldwide? Absolutely... despite that noteworthy scene. "They've still not seen it, but now they're perfect ages to see it and they'll see it on the big screen with me, in 3-D," Kate revealed on Daybreak. "I mean, it's going to be profoundly weird. I know the bits where I'm going to be covering my eyes like this, and I'm on eye covering duty and someone else is going to be on ear covering duty because I haven't got enough hands!"