NEWS
Kate Winslet & Evan Rachel Wood Light Up NYC At Mildred Pierce Premiere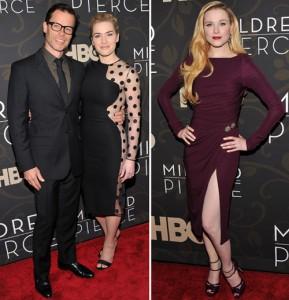 Nothing like a Monday night movie premiere in the Big Apple to bring the stars out in their best! Co-stars Guy Pearce, Kate Winslet and Evan Rachel Wood donned their most glamorous looks to bring attention to their new movie, Mildred Pierce, which premiered in NYC last night at the iconic Ziegfeld Theatre. Although young star Evan always seems to ooze confidence, she had to ask her on-screen mom Kate for some advice during filming!
Article continues below advertisement
Oh and for those not in the know, a merkin is a pubic wig — Evan had to don one to appear naked, as in the 1930s, women didn't get bikini waxes. No wonder she was nervous!