NEWS
Kate Winslet on 'Titanic 3-D': 'It Does Look Spectacular'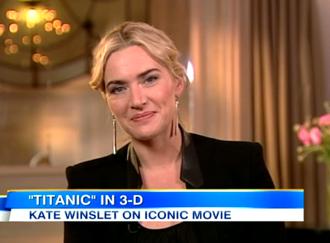 Fifteen years after its original release, James Cameron's Titanic is heading back to theaters — but this time in 3-D. Kate Winslet chatted with Good Morning America today about starring in the movie and how she's looking forward to it coming back to theaters.
OK! GALLERY: KATE WINSLET WEARS A SEXY BLACK DRESS TO CFDA'S OPENING NIGHT GALA
"I still haven't seen the full 3-D version. I have seen 21 minutes of cut-together footage in 3-D, and it does look spectacular, I have to say," Kate explained on GMA.
Article continues below advertisement
Kate admitted the experience is very different and you feel very immersed in it.
The actress also shared her favorite scene to watch and shoot, which, of course, was with her co-star, Leonardo DiCaprio.
"The party when Rose joins Jack in steerage and there is all the dance and I got right up on my tippy toes like that. I couldn't wait to shoot those scenes. I was really looking forward to it and I loved every second of it. I really enjoy watching that sequence. Just very very happy; really happy, shooting those scenes with everybody."
OK! NEWS: TITANIC 3-D DEBUTS A NEW MOVIE TRAILER
Kate also admitted that every time she gets on boat now she's asked to replicate the famous scene of her "flying" at the bow of the boat.
"I look back on it and all I remember is it was always a rush. We shot it maybe four or five times, if not more," Kate explained of filming the scene to get the sunset just right.
It was definitely worth it! We'll never forget that scene.