NEWS
Kate Winslet's Quick Thinking in Richard Branson House Fire: Ditch Bra, Save Granny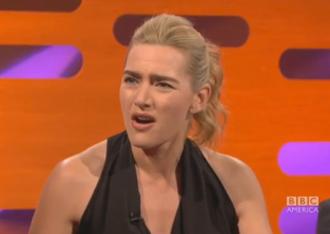 In times of an emergency, people can do some really strange things and Kate Winslet is no exception. The actress admits she did help Richard Branson's mother escape a fire on his private island, but it didn't go as smoothly as initial reports suggested.
"It was geniunely very scary, it really was. I mean we did wake up at 4:30 in the morning to hear the sounds of some of Richard's nephews voices yelling that there was a fire. And I jumped up and ran immediately towards the fire because clearly I thought I could put it out," Kate joked on The Graham Norton Show.
Article continues below advertisement
Kate was with her children Mia, 10, and Joe, 7, staying on the island in August and told them to stay put while she figured out what to do.
"Then I'm thinking, 'Now what do I do?' " Kate recalled. "Ran into the bedroom and put on a bra. In disastrous moments like that, you do the strangest things."
"So I started to put on a bra, and then thought that's gonna take me too long. Off came the bra, on with the T-shirt, grabbed the bag, grabbed the children and picked up granny."
Watch the interview clip, below!