NEWS
Katharine McPhee Already Bored being Blonde?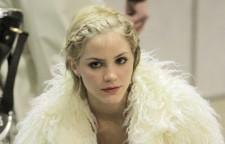 Former American Idol runner-up Katharine McPhee surprised a lot of people last fall when she cast off her signature long brunette locks in favor of a short, bleach blonde 'do. And in a new interview, the pop singer reveals that this may just be the start of an ever-changing kaleidoscope of hair colors.
Appearing on Fox News Channel's Fox & Friends this morning, Kat revealed what the tint of her next dye job would be.
Article continues below advertisement
"Red, definitely!" She said, before changing her mind. "I was actually thinking black, just black, black... Brown, blonde, black!"
Regardless of what tint she opts for next, the 25-year-old says the extreme hair makeover was all part of a personal overhaul. "I took myself out of the whole Hollywood thing," she explained on Fox & Friends. "I had a little bit of a physical expression of that... A young girl wants to change up her hair, what's wrong with that? There really wasn't a whole plan behind it... Blondes have more fun!"
Kat's second album, Unbroken, which features the singer looking blonde as ever on the CD cover, was just released on Tuesday.
Watch the latest news video at video.foxnews.com