NEWS
Katharine McPhee Waves Bye to Paula and Hello to Ellen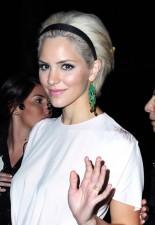 Katharine McPhee thinks it's about time American Idol changed things up. During last night's Feeding America benefit concert, Katharine told E! News, "I imagine some of the crazed fans who love Idol and don't want it to change at all would be upset. But I think it's a great changeup."
Katharine didn't think Paula Abdul leaving the show was a big shocker. "It doesn't surprise me, because it wouldn't surprise me if Simon Cowell was leaving the show," said the former Idol singer whose new album Unbroken comes out early next year.
Article continues below advertisement
"They've all been on the show for so many years…Do what you've got to do," she said of Paula leaving the show.
Katharine thinks what the show really needs is exactly what Ellen DeGeneres has.
"There's just something cool about Ellen. You can go around and around and say, 'What can she bring to the show?' but she's just cool!"