NEWS
Katharine McPhee's 10-Year Plan to End Hunger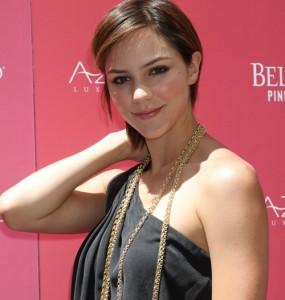 As a runner-up on American Idol, Katharine McPhee belongs to a select group of stars.
But her hubby Nick Cokas never lets her forget the less fortunate, and that's why she's touring the country to promote the Hunger-Free Summer initiative with ConAgra Foods and Feeding America.
"He completes my soul," Katharine, 26, tells me of life with her hubby, whom she wed in 2008. "He's perfect for me because he keeps me focused and in line with what is important in life. Going back to charity stuff, he's always the one that reminds me that those are the important things to do, and to keep that a priority and part of my career. He's really sweet, too."
Article continues below advertisement
But she's not all business when Nick gives her a smirk.
"What?!" she says to her husband. "He's making faces at me. That's not nice."
She continues, "He makes me laugh. He also blows my mind."
Indeed, Katharine has big plans in store for the next decade. When asked where she hopes to be in ten years, she is clear that she would like to solve the world hunger problem with the help of Feeding America.
"There's a lot of cool charities you can get involved with that you hope you can find a cure – you hope, but there is never a for-sure guarantee that they will find that cure," she explains. "What Feeding America is doing along with ConAgra and so many other corporations is an attainable thing to know that in the future, we can literally end – first U.S. hunger, and then world hunger. To know that I have a hand in that from a personal level makes me feel very excited to be involved."
Regarding showbiz, Katharine has her own hopes and dreams.
"Careerwise, I don't have certain expectations as far as awards and things like that," she says. "That's icing on the cake. To be a part of this business and have a lifetime of a career without just being a flash in the pan is what I hope for, and that I can continue to keep building, keep growing as an artist and hope to be around for a long time."
Hmm, is Broadway in her future as it has called on Idol alums Jordin Sparks, Diana DeGarmo, Ace Young and Constantine Maroulis?
"I have never done Broadway. I studied musical theater, so I have a background for it. There's been opportunities, but not quite the right match for me yet. But I would love to do Broadway one day."
Here's my pic with Katharine:
For more on Katharine's Hunger-Free Summer initiative, pick up the OK! on newsstands now. The cover line is "Bachelorette Ali: How I Lost 10 Lbs. Fast!"