NEWS
Katherine Heigl Brings Daughter Naleigh on 'Jimmy Kimmel Live!'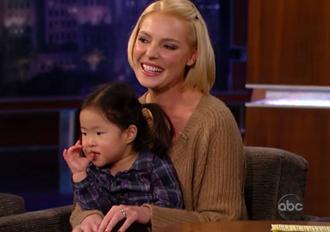 Article continues below advertisement
"She's here.... She's very hammy. She likes applause," Katherine said.
Josh then carried her out and gave a quick hello before running off the stage.
"Say 'Hello, Mr. Kimmel,' " Katherine told Naleigh. "She loves a crowd. She'll be shy right now, but when people applaud... "
Naleigh wasn't feeling it though and just continued to suck her thumb.
"She's got her fingernails painted there, too," Jimmy Kimmel said.
Watch the cute clip of Katherine's interview with Naleigh below!