NEWS
Katherine Heigl Is Fun & Fearless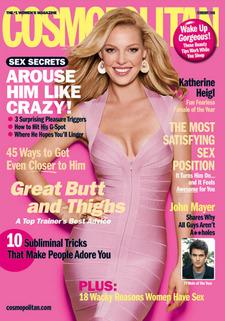 With the blockbuster success of Knocked Up, an Emmy for her work on hospital hit Grey's Anatomy — oh, and a wedding — Katherine Heigl had a 2007 to remember. And it appears that things only appear to be getting bigger and better in 2008.
Not only is the 29-year-old starring in 27 Dresses out on Jan. 18, but she has also been named Cosmopolitan's Fun Fearless Female of the Year.
Article continues below advertisement
"I pride myself on being kind, but that's not to say there aren't moments when I'm a diva," she tells the magazine, on sale Jan. 15. "Everybody has bad moments ... There are people in my life who keep me grounded, so I couldn't behave that badly, even if I wanted to."
One person who is there to keep her from going diva is her new hubby Josh Kelley. "Josh came into my life and I realized, oh my God, you're someone I can really trust and go to when things are hard," she explains. "To have that in a partner is huge." ( for OK!'s exclusive pics of their winter wonderland wedding.)