NEWS
Katherine Heigl: Josh and I Did Nothing "Scandalous" in the Hot Tub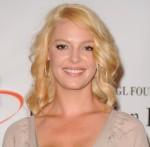 Katherine Heigl has explained why she talked to police — called to her home on Monday night over complaints that she and hubby Josh Kelley were causing a ruckus in their hot tub — in a skimpy bikini.
A video surfaced of Katherine, wearing nothing but the teeny two-piece talking to cops, who were discussing an ongoing issue with the couple's neighbors.
OK! NEWS: COPS CALLED TO KATHERINE HEIGL'S HOUSE
"We don't really do anything that scandalous or that exciting, so the fact that we're out talking to the cops in our bathing suits on a Monday night just cracks me up, Katherine tells iVillage.
Article continues below advertisement
"We were hanging out at home just the two of us. We made ourselves some cocktails, and I had specifically worn a sexier bikini than I normally would because I hadn't seen Josh in two weeks.
OK! VIDEO: KATHERINE HEIGL ADMITS SHE HAS AN IMAGE PROBLEM
"We were just chillin' in the hot tub, and my neighbor started screaming at us (to be quiet). He's done it like four times before, and it was so infuriating because it was 9 o'clock at night and we were not shouting — just two people quietly talking and hanging out.
"I called my security and asked them to call the cops because at the end of the day, it's harassment at this point.
OK! VIDEO: JOSH'S SKILLS WITH KIDS MAKES KATHERINE JEALOUS
"The cops showed up. We don't put a towel on, we don't put a robe on, we just go out there to chat about this neighbor we can't stand in our bathing suits and my boobs look ridiculous!
"I just love it because it's the only scandalous, interesting thing that we've ever had to talk about."