NEWS
Katherine Heigl & Josh Kelley Introduce Their New Daughter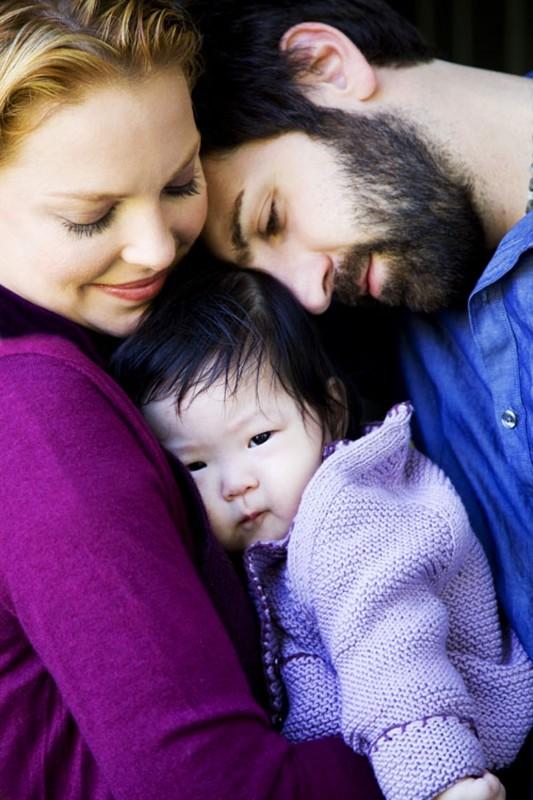 Katherine Heigl and husband Josh Kelley have just released their first ever family portrait with their adopted daughter, 10-month-old Nancy Leigh -- or Naleigh for short -- from Korea. Katherine recently opened up to Ellen DeGeneres about their decision to adopt the little girl.
"They sent us a picture. They told us that it was a little girl and who she was and the information about six months ago," she revealed on the Sept. 11 Ellen DeGeneres show. "It was meant to take a long time. This sort of thing can take years."
Article continues below advertisement
However, Katherine says, their new daughter has special needs, which sped up the adoption process.
"She is a special needs baby and because of that it all moved so much faster," she told Ellen. "They wanted to get her to us as quickly as possible."
As for her name, Katherine explains how they arrived at Naleigh.
"I am naming her after my mother Nancy and sister Margaret Leigh -- Nancy, Leigh. So we call her Naleigh."
Katherine's spokeswoman tells the Associated Press both parents and Naleigh are together and doing well. The couple is putting photos of their daughter up on www.jasonheiglfoundation.org, the Web site of Katherine's animal-rescue foundation.