NEWS
Katherine Heigl: Motherhood Changes Emotions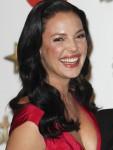 Katherine Heigl leaves daughter Naleigh (pronounced Nay-leigh) home for the first time in six months when she attends the 13th Annual ASPCA's Bergh Ball held at The Plaza in NYC.
The adopted Korean girl, 17 months, is getting daddy-and-me time with singer-songwriter dad Josh Kelley, who is the brother of Lady Antebellum's Charles Kelley.
"He's spectacular," the actress, 31, tells me of the man she married in 2007. "I couldn't have even imagined a better father for her. She's the luckiest little kid. We call him Disneyland Dad because as soon as he comes in, it's fun and happiness and rides around the room on his shoulders. He's attentive and involved. I never for a minute would question leaving her."
Article continues below advertisement
She continues, "This is the first time I've actually left her in six months, so it's a little weird for me, but I knew she was in really good hands because Josh is fantastic with diapers, food, nap-time, playtime. He's got it all."
What are her latest milestones?
"Right now, last weekend, she started getting the courage to walk more on her own. She would walk, and she held our hands, and sometimes she'd take a few Frankenstein steps, but now literally something switched in her brain, and she was like 'I'm going to give this a go. We leave her to hang out, and suddenly you see her, and she's walking. It was astounding!"
And, she's talking. Her first word was "hi."
"And then she would go 'oh yeah' throws voice all the time. She'd be playing with her toys and go 'oh yeah' throws voice in that inflection."
For the owner of six dogs, who is trying to convince hubby Josh to add another pup to their household, saving the animals is her passion. She admits she can't sleep at night when she thinks about how shelters can't save all the precious pups who live there.
MORE ON:
Katherine Heigl
Get The Top 6 Celeb-Loved Skincare Products For Under $60, Used By Alexandra Daddario, Alicia Keys, Katherine Heigel, Lori Harvey, Ruby Rose, More — Shop Now
Slammed By The Stars: Kim Cattrall, George Clooney, More Spill The Tea On Toxic Work Environments, Horrible Costars, Terrible Projects
Article continues below advertisement
Little Naleigh is thrilled with all of her furry friends.
"We give her crackers to eat, and she'll be munching on her crackers, and looking at the dogs because they're standing there staring at her – waiting, waiting, waiting," she says. "And then she'll let them have a bite of her cracker, take it back and walk away. They follow her everywhere."
Now that she's become a mom, Katherine feels more in tune with her emotions.
"Watching any film or television that deals with a mother and child story is so gut-wrenching in a way I could have never predicted," she tells me. "You have this empathy suddenly, this compassion for a mother going through anything difficult or complicated with a child because suddenly I understand that unbelievable drive and instinct to protect. Protect, make them happy, shelter them, give them everything they need in life to be happy. That was a weird feeling. I was like 'that's a lot of pressure.'"
Article continues below advertisement
One show Katherine can't get enough of is CW's Life Unexpected.
"I love the story about these parents who gave a child up for adoption and she came back into their lives 16 years later," Katherine says. "I think about what it cost Naleigh's parents to let her go, and that it was the best thing they could do for her, but how hard that must be emotionally, and then I sit and watch this show every week, and I'm like 'this is from the birth mother's perspective.' It's amazingly well-done. I love it."
Pick up the OK! on newsstands now for Katherine's motherhood surprise. The cover line is Brad & Angelina/"Wedding For The Kids." And, find your new BFF through ASPCA. There are many loving cats and dogs who would give anything to be a member of your family. We found our girls, Mysty and Spense, in a shelter, and they are the light of our lives.