NEWS
Katherine Heigl on Motherhood: You're Wondering "Am I Doing This Right?"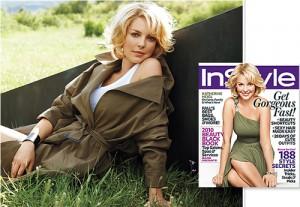 Katherine Heigl is a very proud mom to her 20-month-old daughter, Naleigh, whom she adopted with husband Josh Kelly one year ago. Being a mom also mean sacrifices and the Life As We Know It star opens up to InStyle Magazine about the challenges of motherhood and putting her career on the back burner.
"I had a lot of complicated emotions about it because I chose to go back to work," Katherine tells the October issue of InStyle, via PopEater, which she covers. "I love what I do and — this isn't just making excuses — if I weren't fulfilling this thing in me to perform, to live out my passion, I don't know that I would be the mom I need to be."
Article continues below advertisement
The actress, who recently parted ways from her role as Izzie on Grey's Anatomy, says she and hubby Josh always planned on adopting.
"I had spoken to Josh about it before we got engaged and because I wanted to make sure we were on the same page — not everybody feels the way I do about adoption," she says. "I don't know why I felt like it was so important for me to do it before we had biological children, but I felt like I had been waiting and dreaming about Naleigh for a long time."
Even though Katherine hates to admit it, Naleigh bonded more quickly with dad.
"The first thing she said was, 'Dada,' and then she'd call everybody else she loved 'Dada.' "
She also admits to doubting herself as a mother. "There's this thing where, as a new mother, you're just constantly going, 'Am I doing this right?'"
"Naleigh learned with me that the word 'Mama' was synonymous with kisses," Katherine explains. "So when she first started saying, 'Mama,' she would also make a little kiss sound ... She started saying it maybe a month or two ago. I would come into the room and she'd go, 'Mama!' And it was like, Thank God."