NEWS
Katherine Heigl to Stay on Grey's?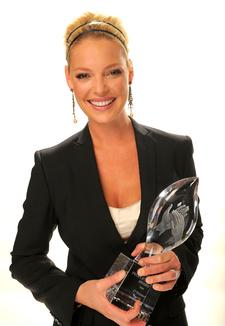 Since before the end of last season's Grey's Anatomy, there has been buzz that either T.R. Knight or Katherine Heigl—or both—would be leaving the show. And now with the report that T.R.'s character George will move on into the light after a bus accident, it seems Izzie is cleared for a full recovery.
A source confirms to E! News that Izzie "will be back," although neither ABC nor Katherine have commented as of yet.
MORE ON:
Katherine Heigl
Get The Top 6 Celeb-Loved Skincare Products For Under $60, Used By Alexandra Daddario, Alicia Keys, Katherine Heigel, Lori Harvey, Ruby Rose, More — Shop Now
Slammed By The Stars: Kim Cattrall, George Clooney, More Spill The Tea On Toxic Work Environments, Horrible Costars, Terrible Projects
Article continues below advertisement
Season five's finale left viewers wondering whether Izzie, with stage IV metatastic brain cancer, would awaken after flatlining. George was struggling to survive a traumatic bus accident. At the end, it seemed Izzie was ready to return to her friends, while George was fine passing on.
Doubt was cast over Katherine's return after she withdrew her name from Emmy consideration last summer over concerns that her character didn't have enough good storylines. However, Izzie's illness has been a central plot over the last season, so maybe that helped her decision.