NEWS
Katherine Jackson is "Seriously Considering" Suing Dr. Conrad Murray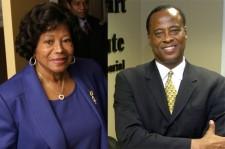 Katherine Jackson's attorney, Adam Streisand, tells TMZ that Katherine is "seriously considering" filing a wrongful death lawsuit against Dr. Conrad Murray, her son Michael Jackson's physician at the time of his passing.
Adam says the case would be filed on behalf of Katherine and MJ's three children. The biggest factor against filing suit is that Conrad is asset-challenged.
Adam said he hopes Conrad files a claim for wages against AEG because, "At least then we'd have some money to take from him."
MORE ON:
Dr. Conrad Murray
Article continues below advertisement
Conrad may sue AEG for $300,000 for the two months he "treated" Michael.