NEWS
Katherine Schwarzenegger Asks For "Privacy" As Her "Healing Begins"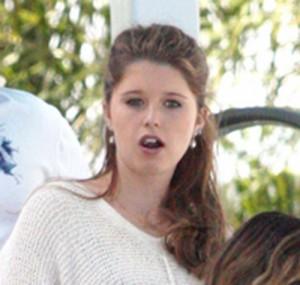 Katherine Schwarzenegger has once again turned to her Twitter account as she continues to cope with her parents' (Arnold Schwarzenegger and Maria Shriver) separation, as well as her father's betrayal and startling news that he had a child with a former household staff member.
"As my healing begins after this crazy week I ask for privacy! This is only the business of my family and please respect that!" Katherine Tweeted yesterday.
Article continues below advertisement
Her family has been catapulted into the center of the public spotlight after Arnold owned up to his indiscretions last week.
Katherine, Arnold and Maria's oldest child, Tweeted a message last week about her father's confession that he had a baby with a ex-housekeeper over a decade ago.
"This is definitely not easy but I appreciate your love and support as i begin to heal and move forward in life," she wrote on Twitter last week. "I will always love my family!"
As reported by The New York Post, the power couple is worth between $200 and $400 million, and if Maria divorces the former governor of California, she'll end up with more than $100 million.