NEWS
Watch: Kathie Lee Gifford Quits The 'Today' Show Live On Air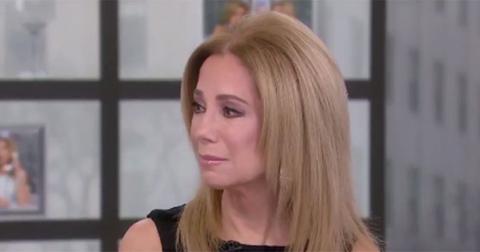 Dec. 11 2018, Published 1:20 p.m. ET
View all comments
Kathie Lee Gifford quit the Today show live on air Tuesday.
She made the announcement during the fourth hour of the morning program alongside cohost Hoda Kotb.
"Okay, I have something to share with everybody," she began. "It's bittersweet as these things always are, but I have been here almost 11 years. Thought I would stay one year. Something happened along the way and I fell in love with a beautiful Egyptian goddess, and when it's our 11th anniversary I will be leaving the Today show. I know. It's an exciting time for me and I'm thrilled about the projects coming up, but it's also hard because the reason I stayed longer than a year is because I love everybody here."
Article continues below advertisement
"I have been in this business 120 years and never worked with a more beautiful group of people who just give, give, give every day, four hours of live television five days a week," she continued. "We laugh and support one another and know each other's kids' names and know when somebody is having a colonoscopy. We do life and nobody more so than my Hoda. It's going to be the same as my Regis Philbin. I'm closer to him now than after 15 years together. You don't share that life together and not be changed forever by it. I love you, Hoda mama. First you were just Hoda, remember?"
While Kathie Lee mentioned she is excited to work on a few projects after leaving Today, RadarOnline.com reported last month that NBC may be letting her go from the show as it seeks out a younger audience.
To see Kathie's emotional speech, watch the video above.
Why do you think Kathie is out at Today? Sound off in the comments.