NEWS
Kathy Griffin Cracks Up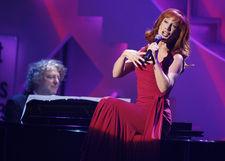 It's all comedy all the time when I trek up to Montreal to cover the Just For Laughs Festival, which features nightly galas hosted by stars including Joan Rivers, Kathy Griffin, Jimmy Fallon and Jeremy Piven.
Even the hotel elevator at the Hyatt Regency is teeming with comedians always on the lookout to add to their schtick!
There's something for everyone as youngsters and Francophiles take part in the outdoor festivities that include a children's show and Victor's World, hosted by the fest's funky green mascot.
Article continues below advertisement
During my first comedy gala at Theatre St. Denis, Kathy Griffin takes off-color stabs at Miley Cyrus, Lindsay Lohan, Scientology and Kathie Lee Gifford during a song montage.
"I don't mean to brag, but while I've been in Montreal, I went to a pretty fancy restaurant," Kathy says. "I don't mean to be rude, but I don't know if you guys have enough money to get a really good table at a restaurant called Frites Alors. Last night for dinner I had a basket of fries and mayonnaise."
She has a few yuks at the expense of the less fortunate.
"The homeless people in Montreal are like no place else I've seen. They're homeless, and they all have cigarettes and iPods! They're also off on Mondays."
She calls Celine Dion's show in Las Vegas "Cirque Du Celine."
Ba-dum-dum!
Pick up the OK! on newsstands now for more coverage of the Just For Laughs Festival. The cover line is Matthew McConaughey/"Daddy's Little Boy." And, check back tomorrow for more comedy from Jeremy Piven.