NEWS
Kathy Griffin's "Heart Is Broken" Over Levi Johnston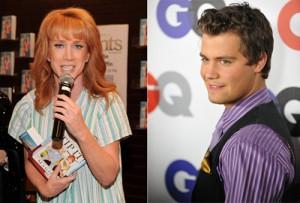 While many are shocked by the news of Bristol Palin and Levi Johnston's engagement, Kathy Griffin is heartbroken. The comedian opened up to The Insider about why she is so upset by the couple's "happy" news.
Kathy considers Levi her good friend and her first reaction to his engagement news was, calling Bristol "that woman."
"I'm a woman scorned!" Kathy quipped to The Insider at a book signing for her new paperback in San Diego.
Article continues below advertisement
The noted Palin foe often joked about Levi being her boyfriend and scored some headline ink last summer by going to the Teen Choice Awards with him.
Kathy is, however, excited about being a part of the wedding and promises that her designer dress will not take away from the bride's glory.
"I'm sure I'll be going to the wedding, if not officiating. You just never know with Levi."