NEWS
Katie Couric Honors Regis Philbin at 2011 Living Landmarks Celebration in NYC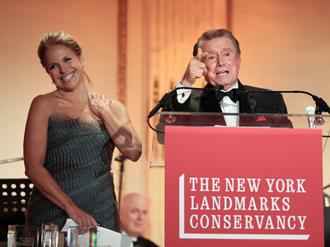 Regis Philbin was one of the honorees at New York Landmarks Conservancy's 2011 Living Landmarks Celebration this week for the contributions he makes to NYC. Katie Couric had the honor of presenting the award to Regis at The Plaza Hotel in NYC, and the opportunity meant a lot to her.
Regis and Katie arrived at the extravagant cocktail hour at the same time as Angela Lansbury, who was also being honored that evening, and the stars caused quite a stir.
Article continues below advertisement
Angela was in an especially good mood and looking gorgeous in a vibrant red dress.
So, how did she feel to be honored?
"It's always unexpectedly nerve-racking and wonderful, too — all those good things," Angela told OK!. "But you say to yourself, 'Why? What did I ever do?' I was just here doing what I love to do best — being actress...living in New York City."
The actress was ready to get the party started and sang "Living in New York City" as she made her way to dinner!
While Regis may not have been singing with Angela, he did share her love for NYC.
Regis was featured in a special video before accepting his honor, "I loved the city to begin with, and with that you love the people who live here and who have made their home here all these years."
Of the experience, Katie wrote on ABC News, "It was so nice to have the chance to tell him how much he means, not just to New Yorkers, but to the millions of people whose lives he has touched as a TV personality for 50 years."
Congratulations to both Regis and Angela for their Living Landmarks honors!