NEWS
Katie Holmes Is an "Absolutely Incredible" Mom, Says Director Troy Nixey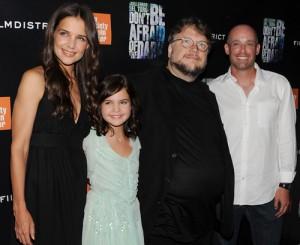 Not everyone gets the opportunity to meet Katie Holmes — let alone direct her! Director Troy Nixey got this opportunity when he cast Katie in the new film Don't Be Afraid of the Dark. Troy spoke exclusively to OK! Monday night at the film's NYC premiere about working with Katie and having Tom Cruise and daughter Suri Cruise on set!
Katie plays a mothering role in the new scary flick — opposite young co-star Bailee Madison — and Troy said Katie was perfect for the part.
Article continues below advertisement
"I was looking for someone who had a really strong maternal instinct. Someone who would be believable in the process of at first not being a parent and then taking a responsibility in that role as the movie went on," Troy told OK! at the premiere. "I knew that Katie with her strength and her innate ability to be maternal and as an actor would be able to do it."
How is she as a mother to her own daughter, Suri?
"Oh fantastic. Fantastic! Absolutely incredible," he gushed.
Suri is no stranger to being on movie sets either.
"She's very smart. She knows what's going on," Troy explained. "It's a set, she's probably been on every set her mom and dad have done, she knows what's going on. "