NEWS
Katie Holmes and Suri Cruise: Bonding Day at the Ballet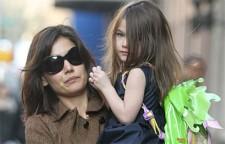 With the family home from Boston, where Tom Cruise just finished filming his new flick Knight and Day, Katie Holmes opted to take daughter Suri Cruise out for a weekend of fun in NYC. After attending Broadway's The Lion King with mom on Saturday, the duo enjoyed a Sunday lunch at Balthazar and then raced off to Joyce Theater to catch a retrospective of the Complexions Contemporary Ballet Company in the city.
Article continues below advertisement
Katie toted her three-year-old princess along for the ride as an onlooker saw Suri sitting happily on Katie's knee up in the balcony throughout the show.
Katie, 31, was even spotted heading down to the stage to get a closer look and to take a few pictures of the performance, which includes a band of over twenty multicultural dancers trained in classical and modern ballet.
Following her stint on So You Think You Can Dance honoring the legendary Judy Garland, Katie's interest in the art form has reached an ultimate high as a dancer in the Company talks to OK! about meeting the loving mom and daughter pair.
MORE ON:
OK Galleries & Photos
"She is very interested in dance and she wanted to check out our performance, so she came down to the stage to meet us after," the entertainer revealed to OK!
And after meeting the contemporary dance troop backstage, while Suri sat patiently on the floor equipped with a bright green backpack, a member of the acclaimed group assured OK! that Katie, along with her darling daughter, definitely, "admired the performance. She loved it; she thought it was great!"
Now all Katie has to do is work on getting Suri out of those mini-heels she adores and into a pair of ballet slippers!