NEWS
Katie Holmes, the Bringer of Cookies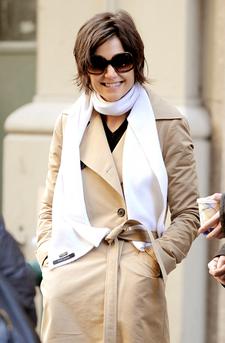 Katie Holmes knows the way to her crew's heart — food!
The cast and crew on the chilly NYC set of her currently shooting film The Extra Man have already fallen in love with the star after she warmed them all up by buying chocolate chip cookies for everyone on Tuesday.
"It was only the second day of filming and Katie brought our entire crew chocolate chip cookies," one on-set source tells OK!. "What an utter sweetheart. She said, 'I know you guys work hard.' It's such a small gesture but it really goes a long way. She's cordial, she's friendly and everyone already loves her."
Article continues below advertisement
Today, Mrs. Tom Cruise was shooting scenes, including one where her character was visibly upset and crying at a bus stop, in Midtown Manhattan with co-star Paul Dano.
The Extra Man is about "A man who escorts wealthy widows in New York's Upper East Side takes a young aspiring playwright under his wing."
By Laura Lane