NEWS
Katie Holmes Is "Excited to Begin a New Phase" in Her Life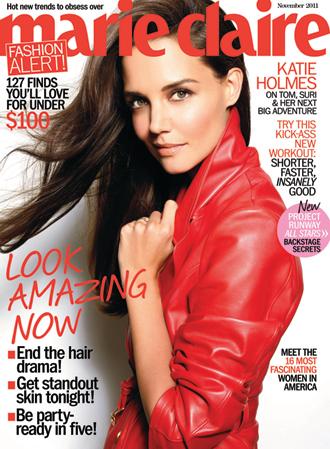 Katie Holmes smolders on the November cover of Marie Claire! The mom and talented actress opens up to the mag about everything from daughter Suri Cruise companionship to her marriage with Tom Cruise to her next big plan — opening up a design business!
Katie is rarely photographed without her right hand gal — adorable six-year-old daughter Suri.
One parenting practice this mom has nailed down, always bringing a snack and a coloring book.
Article continues below advertisement
"My daughter was with me the other day at a work event and it was a long day. I took out some paper and markers that I had in my bag, and someone said to me, 'Oh, that is so cute,' and I looked at her and thought, No, this is not cute," Katie tells Marie Claire. "This is what all mothers have to do."
So how does Katie balance work and family life? She doesn't give herself any other option.
"Because you have to. As an actress who is also a mother, you don't have the luxury of drama," she shares.
And Katie has big plans for the "next chapter" of her life.
"I'm excited to begin a new phase: roles I might have been afraid to play before, places I want to travel to with my daughter," she says. "I'd like to build the design business. But not too fast."
Catch the rest of Marie Claire's interview with Katie in the November 2011 issue, on newsstands Oct. 25.