NEWS
Katie Holmes: Suri's a Handful!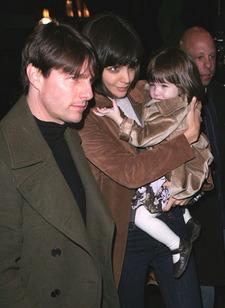 Actress and mom Katie Holmes made the NYC talk-show circuit Monday morning, heading first over to Good Morning America, where the 29-year-old talked openly about what a handful her 20-month-old daughter Suri has turned into now that she's walking and talking.
"She's always saying, 'Who's that? Who's that?'" the star of the upcoming Mad Money recalled. Katie also described a visit with Suri and hubby Tom Cruise to legendary Big Apple toy store FAO Schwartz. "We got in, running around, eating ice cream and playing with all of the toys, and Tom and I were playing with a lot of the toys ourselves."
Article continues below advertisement
And while Katie wouldn't call her adorable daughter, who will turn 2 in April, strong-willed, she did say, "She's very strong. And bright... She picks out some of her clothes, and she loves running around. She's beautiful. Very smart."
Then it was over to Live With Regis & Kelly, where Katie revealed that little Suri already has expressed an interest in snowboarding, something the rest of the Cruise clan enjoyed doing together over their Christmas holiday in Colorado.
And when OK! got a chance to ask Katie if she's planning on expanding her brood, which includes Tom's two children with ex-wife Nicole Kidman, the former Dawson's Creek star coyly said, "We're enjoying our family right now."
So is there the possibility of having another little Cruise running around the house? We'll just have to wait and see!
By Jocelyn Vena