NEWS
Katie Holmes on Suri's Style: "She's Got Great Taste"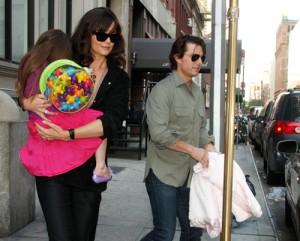 Katie Holmes, Tom Cruise and their fashionista Suri Cruise are back in the Big Apple while Katie makes the rounds promoting her new film, The Romantics. Katie headed to chat on Live! With Regis and Kelly on Tuesday morning to discuss her film, Tom's upcoming MI-4 film and, of course, Suri's fashion!
OK! GALLERY: KATIE HOLMES KEEPS UP WITH HER KENNEDYS STYLE
When Katie sat down, Regis Philbin pulled out the New York Magazine with her on the cover.
Article continues below advertisement
Katie has been working hard playing the role of Jacqueline Kennedy Onassis for the upcoming film The Kennedys, and according to Kelly, she's got the fashion to back it up!
The actress has a new fashion company, Holmes & Yang, which she says has been carried at Barneys and Maxfield in L.A.
"It's been really fun and it's been really fun to play Jackie," Katie said of her film, which is shooting in Toronto. "She's such an amazing woman and such an amazing artist. She's incredible."
What surprised Katie the most about Jackie was "how much she actually did for the arts and for our country."
OK! GALLERY: KATIE, SURI & BELLA BOND IN TORONTO!
And of course, fashion. But, Katie says she gets her fashion inspiration from her 4-year-old daughter.
"Suri is very helpful. I go to her and I say, 'What shoes?' She picks them out. One time, actually many times, I'll be getting ready for an event or something and I'll say, 'Suri what do you think?' And she'll say (Katie points) 'Definitely those. Those,'" Katie explained. "And she won't let me leave unless I'm wearing what she wants me to wear. She's got great taste. And I want to make her happy."
Article continues below advertisement
While Katie and Suri perfect their fashion style, Tom is perfection in Mission Impossible style for the upcoming MI-4.
"He's always in great shape and he's doing a lot of cool stunts," Katie said of her husband, but she's not sure if she would ever star as a "damsel in distress" in one of his films.
"That never occurred to you right?" Regis asked. "You don't need him anymore."
"That's not true!" Katie said. "No, no, that's not true. I always get so excited to see what they're going to do. He's going to be doing some really big stuff in this one, so it's like 'What stunt are you doing?'"
OK! GALLERY: KATIE HOLMES BRINGS HER SURI BACK TO THE BIG APPLE
And Katie said she will go on the MI-4 locations to Prague and Dubai.
But for right now, Katie is focused her film The Romantics, which hits theaters Friday!
"It's a great cast," Katie said. But the plot — maintaining a relationship with your ex — was a concept that confused Kelly.
"Concept," Katie stated, but she did agree it would be weird to invite your ex to your wedding and said, "Yeah, yeah, perhaps, I think."