NEWS
Katie Holmes on Tom: "He's Quite an Incredible Human Being"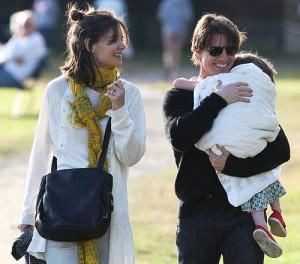 Katie Holmes has been acting up a storm lately, but luckily she has her hubby Tom Cruise by her side to help her balance work and taking care of their daughter Suri Cruise.
OK! GALLERY: KATIE HOLMES HOLDS ON TO SOME JACKIE O. STYLE
Katie covers New York Magazine and talks about finding a balance between acting, taking care of Suri and being married to Tom!
"We have quite a schedule, you know?" Kate tells New York Magazine of balancing her schedule with Tom's. "We don't say, "When I'm working, you don't work," or anything like that. Last year he was shooting Knight and Day and I was shooting The Romantics, and we'd just fly to see each other after we wrapped. And we homeschool Suri—she has a teacher who is with her every day. We like the one-on-one education. I'm happy that my daughter is strong-willed and determined. You really have to go with what the child is wanting."
Article continues below advertisement
OK! NEWS: KATIE HOLMES — 'MY FAMILY INSPIRES ME'
And what Suri wants is to make her own decisions on what to wear!
"I grew up the youngest of five, so there were a lot of hand-me-downs that I would sort of change up. And Suri and I do that now with her clothes. Or rather, she does it," Katie explains. "She says, "I want this sleeve cut," and it's like, "Okay, we'll cut it." She picks out all of her own clothes and has since she was 1½. Tom and I went to the Met ball a couple of years ago, and I had this beautiful red gown and these royal-blue shoes that I wasn't planning on wearing, but Suri made me put them on and so I was like, 'Okay, I trust you.'"
And Katie says Suri can also call the shots on whatever she wants to do in her future!
"Her first set was Lions for Lambs, when she was 9 months old, and now she's 4 and she's so creative and she's so bright and so special," Katie says of bring Suri to her movie sets. "Whatever she wants to do, I know she's going to be amazing at it. I've already started my applause, and I will be applauding for the rest of my life."
Article continues below advertisement
OK! NEWS: DIRECTOR GUILLERMO DEL TORO DISHES ON KATIE HOLMES
Would Katie ever finding herself working on a set with her hubby?
"Well, we do collaborate on everything at home. But I mean, he's Tom Cruise! His body of work is incredible," she exclaims. "Every movie he's done has done really well. I look back, and everything's a classic. I definitely come home and say to him, 'So, imagine a scene … how would you play it?' And he's helpful and sweet and gracious. He's quite an incredible human being."
And as far as the speculations about her marriage goes, she just shrugs it off!
"It's there, it's one of those things. My big concern is what does he have going, what do I have going, what are we going to do this weekend," Katie explains. "It must seem weird, I guess, having so many people watching. It is weird. I get it. But you just, you know, smile and nod."