NEWS
Katie Holmes: What She Really Eats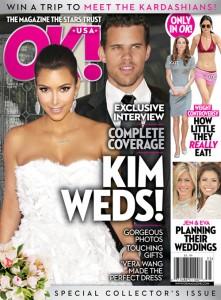 Since Katie Holmes had daughter Suri in 2006, pals have periodically fretted about her weight, or lack of it. As recently as this spring, many wondered whether, at 32, Mrs. Tom Cruise was entering into scary-skinny territory. "She was so gaunt," a pal tells OK!. "Friends said, 'Katie, you look so much older; you need to put flesh on your bones.' "
OK! COVER STORY: KIM KARDASHIAN WEDS!
Katie has gone to great lengths to be thin, like eating a raw-foods diet. "When she wants to slim down for a role, she eats only unprocessed raw vegetables," says the source. "Because of the sugar content, she tries not to eat fruit; if she does, she usually sticks to berries, because they have the lowest glycemic index."
Article continues below advertisement
On a typical raw-foods day, "she'll have carrot soup and a yam for lunch and broccoli for dinner, and she'll keep a handful of raw almonds for a snack," says the source, who adds that the diet is extreme. "She doesn't sustain it for long."
GALLERY: SURI CRUISE DONS A FEDORA & STEPS OUT WITH A DOLL IN NYC
"After shooting, Tom will take her out so she can pig out and get some much-needed protein," says an insider. It's another favorite of Katie's. "She does a lot of low- carb, high-protein. She and Tom love meat. They have steak houses, like Mastro's and Cut, in Beverly Hills that they hit regularly. Katie starts with an iceberg wedge and then gets a lean cut of steak." Another insider says Katie also eats "mostly organic food, avoiding anything processed. White flour and sugar are out, unless she's treating Suri."
And what she's doing is working. "Katie appears to be around 130 pounds," celeb nutritionist Oz Garcia, Ph.D., who doesn't work with Katie, tells OK!. "She's in a healthy BMI."Ultimately, it's about balance. "She is a pretty level-headed Midwestern girl," her pal tells OK!. "In the end, it makes sense that she chooses health."
FOR MORE ON KATIE'S DIET & HER CALORIE-BURNING LIFESTYLE, PICK UP THE NEW ISSUE OF OK! — ON SALE NOW!