NEWS
Katy Perry Escapes Into Fantasy Land in 'Wide Awake' Video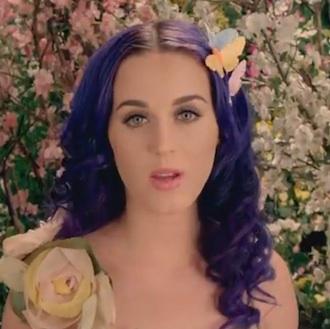 Katy Perry isn't one to shy away from cotton candy clouds and bras that squirt frosting, so her latest video, Wide Awake, which appears to take place in a Tim Burton-like fantasy land isn't too far of a stretch.
OK! NEWS: KATY PERRY ON 'ELLEN': "WE'RE NOT PERFECT," "MY ROAD'S BEEN BUMPY"
Starting at the tail end of her California Gurls shoot, Katy steps off her cotton candy cloud, enters her dressing room and is immediately transported into a a dark, wintry snow-spotted land where she needs a lantern to make her way through a labyrinth.
Article continues below advertisement
After a tough year riddled with divorce, the lyrics: "I was in the dark/ I was fallin' hard/ With a broken heart... I'm wide awake" aren't too difficult to decipher.
The singer eats a plump strawberry, meets a smaller version of herself— complete with little pink sweater, dress and saddle shoes — who looks a little like she should appear in The Shining, and guides her older, sad self through a mirror of butterflies, past two beast guards and into an Alice in Wonderland kind of a garden bursting with flowers, waterfalls and green shrubbery.