NEWS
Katy Perry: No Sex Would Kill Me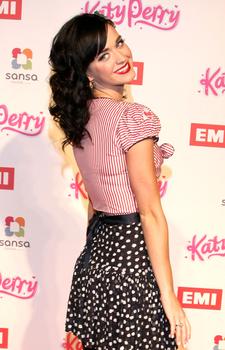 Katy Perry was nominated for Best Pop Female Vocal at this year's Grammys for "I Kissed a Girl," and she knows the reason why.
"It's a catchy little number and most people are in on the joke," says Katy, 24. "So maybe that's why it's such a hit — it's every girl's unspoken wish, spoken." We caught up with her to get her take on All Things Katy.
OK!: Congrats on your first nomination! How does it feel?
Article continues below advertisement
The Grammys are something you dream about when you first start singing. You see people accept their awards, bawling their eyes out, and it sticks with you.
OK!: How did you write "I Kissed a Girl" ?
I had always heard people telling these stories about keeping journals beside their beds, waking up and the middle of the night and writing songs. I never really believed it until I had this dream where I kissed a girl, woke up and was so moved by it that I wrote everything down. And, wow, it turned into this hit song. Of course the one question I always get asked is if I have really kissed a girl. Well, this one is a gimme, you don't even have to ask it. Yes, I have kissed a girl.
OK!: What was that entire flap over you saying that you were going celibate for a year?
Celibacy for a whole year? Are you kidding? I'd rather die. I'm a continual prankster and a jokester. I don't think people realize how silly I can be. I said that as a joke.
OK!: Your parents are staunchly religious. Have they been supportive of you?
They have been, and I'm lucky. Of course, they're protective, but I guess that's good. My dad has a bit of Pentecostal flair — he's hilarious. I was raised nondenominational Christian and a little evangelical.
Article continues below advertisement
OK!: What are you planning to sing about on your next album?
I'll start really thinking about it at the end of the summer. I still want to make a pop record, make people move a little bit more.
OK!: What do you expect from this next tour?
I'm making it sound bigger and brighter, a really entertaining show. I get bored with performers who wear jeans and T- shirts onstage. They think that's all they need. I like to see a show come to life, along with the eye candy.
OK!: How do you stay in shape on the road?
I get a workout by being onstage for an hour every night, so I don't have to do a whole lot. Drinking lots of water and skipping fruit juice is the easiest trick. Another thing I swear by is jumping rope. I hate working out, but I love jumping rope; it's like dancing. I can double jump, I can cross, I can do all of it. I look like Rocky!
OK!: What will you wear at the Grammys?
I don't know yet, but you can expect it to be fun, colorful and happy!