NEWS
Katy Perry Still No. 1 on Maxim's Hot 100 List!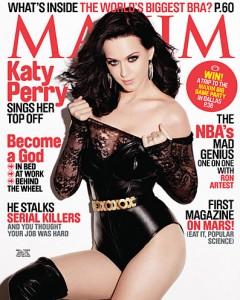 Katy Perry proves why she's still No. 1 on the Hot 100 list for the sexy cover of Maxim's January 2011 issue!
OK! GALLERY: KATY PERRY IS A SASSY SNOW WOMAN AT JINGLE BALL IN L.A.
Katy has only been hot -- and never cold. And being Maxim's No. 1 on their hot list has become attached to Katy's name!
"It's a worldwide thing - the rest of the world makes it their standard," she tells the magazine (via Just Jared). "It's one of the questions they ask me in all interviews now, even in place where Maxim doesn't exist. I'll go to Timbuktu, and they'll be like, 'You're the No. 1 hottest,' and I'm like, 'Maxim said so, but thank you so much for saying so in Timbuktu.'"
Article continues below advertisement
OK! NEWS: KATY PERRY CHANGING HER NAME TO KATY BRAND
Still, Katy is prepared to lose her title some day and knows who she'd like to see take it over.
"Zoe Saldana. She is so chic and cool," Katy says. "And Camilla Belle I love. She is the modern-day Liz Taylor."
So what does the "hot" singer think of her constant comparison's to Lady Gaga and Ke$ha?
"I love what Gaga is doing, and I love what Ke$ha is doing," she says. "I've know Ke$ha forever. She's actually in the 'I Kissed a Girl' video."