NEWS
Katy Perry Tells Jay Leno "People Will Relate" to Her Divorce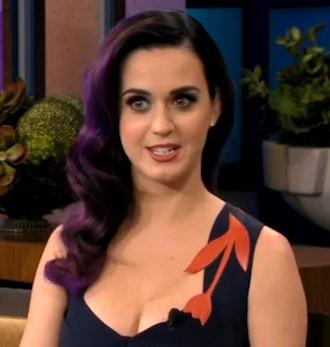 Katy Perry's Part of Me is set to hit theaters on July 5, and it's no secret the singer features her messy split with ex-husband Russell Brand in the documentary.
OK! NEWS: KATY PERRY 'PART OF ME' TRAILER RELEASED
Russell and Katy called it quits last December after 14 months of marriage, and she hasn't been shy about telling the press why she chose to feature it in her new 3-D film. In fact, she expanded upon this telling Jay Leno last night she didn't have much choice when deciding whether or not to show her marriage crumbling.
Article continues below advertisement
"I think that if you went to see the movie and it was completely avoided you come out of that theater going, 'Hmmm...That's strange, I know something else did happen at that time in her life last year,"' she said.
Rather, the dissolution of her marriage makes her more relatable to "half" of the country.
"I wanted to handle it very delicately with the most integrity I could possibly have and show people that like, 'Look yeah I'm going through some of the same situations that half of America goes through,'" she said. "Somehow I landed on my feet and you don't have to lay down and die even if you feel like you're going to."
OK! NEWS: KATY PERRY ON 'ELLEN': "WE'RE NOT PERFECT," "MY ROAD'S BEEN BUMPY"
Katy also covered the June/July issue of L'Uomo Vogue and told the magazine she sees her style as ever evolving and pinpointed Madonna as one of her icons.
"She was able to keep up the interest of the people, because you never knew with what she would come out with the next time. And, regularly, has offered a solid and consistent musical product. I hope to do the same, to make sure that people continue to be interested in me and in ten years, to find out, looking back, I have produced songs that will never be forgotten."
For more on Katy Perry, check out this video from SheKnows.com: