NEWS
Katy Perry & Travis McCoy Visit Splitsville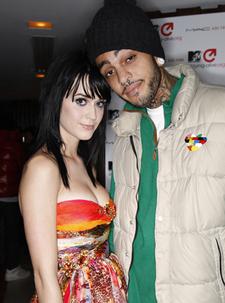 With a hit song titled, "I Kissed a Girl," some Katy Perry fans probably aren't terribly shocked that her relationship with Travis McCoy of Gym Class Heroes — who is most definitely not a girl — wasn't going to last forever.
Rumors of a split began on New Year's Eve when Travis took to his blog at FriendsOrEnemies.com to wax poetic about what appeared to be a break-up with his Grammy-nominated gal-pal, writing:
Article continues below advertisement
"We fight every night, now that's not kosher
I reminisce with bliss of when we was closer
And wake up to be greeted by an argument again
You act like you're ten
So immature, I try to concentrate on a cure
And keep lookin' at the front door"
Of course, it was quickly pointed out that Travis' words were not his own, but rather the lyrics to "Looking at the Front Door" by Main Source.
While there has still been no official word from either party on the split, numerous sources close to the former couple confirm that the two went their separate ways right before the New Year.