NEWS
Katy Perry Tweets About Hubby Russell Brand Being Deported From Japan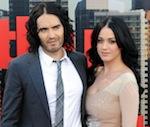 Although Katy Perry was excited to show hubby Russell Brand around Japan this week as they jetted off for the superstar's California Dreams tour date in Nagoya on May 22, new reports reveal that the comedian was actually deported from the country.
"My husband just got deported from Japan. I am so sad. I brought him all this way to show him my favorite place #tokyodreamscrushed," Katy tweeted on Sunday.
Article continues below advertisement
OK! NEWS: KATY PERRY DRESSES TO KILL ON TOUR IN NEW ENGLAND
The 26-year-old explained on her Twitter account that Russell was asked to leave due to, "priors from over 10 years ago!"
Regardless of Katy's disappointment in not having her husband by her side, the singer was still more than excited to be in Japan.
OK! NEWS: RUSSELL BRAND GETS WET ON THE BEACH IN MIAMI
"But of COURSE I love my Japanese fans & the show #MUSTGOON no matter the daily aftershocks or husband kidnappings!... I think I'm turning Japanese, I think I'm turning Japanese... I really think so. I love u Japan, I really do."
Russell made light of the situation, writing on his Twitter page, "Planning escape from Japanese custody. It's bloody hard to dig a tunnel with a chopstick."